Blue Dyeing Museum
- Pápa
Address:

8500, Pápa Március 15. tér 12.

Phone number:

(70) 663-3540

Opening hours:

Tue-Sun 10-18
Museum tickets, service costs:
Ticket for adults

2000 HUF

Ticket for students

1000 HUF

Ticket for pensioners

1000 HUF

Ticket for families

(2 adults + 1 child)

4000 HUF

/ family

Ticket for families

(2 adults + 2 children)

5000 HUF

/ family
Irén Bódy graduated from the Collage majoring in textile pressing in 1952 before she began working as a designer for a factory where she spent ten years.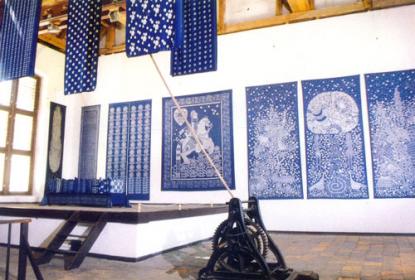 She learned of the technology of dying in the 50's in Veszprém in the shop of Lajos Húsvét. The colors and motifs of the master influenced her greatly. The Dyer Museum, which opened in 1962, influenced her just as much.
Her first independent exhibition was held in the István Csók Gallery in 1967 in Budapest. Since then she presented her works at several exhibitions both abroad and Hungary. Her most significant national and international shows: Budapest, István Csók Gallery, Museum of Fine Art, Hall of Artworks, Pápa Dyer Museum (in 1986 a temporary exhibition), Warsaw, Prague, Paris, Bucharest, Amiens, Calais, Athens.
She was awarded the Munkácsy Prize in 1970, the SZOT prize in 1976, The Worthy Artist Prize in 1988; in 1984 and 1992, she received the prize of the Anna Rózsa Foundation. In 1994, she was chosen to be the member of the Széchenyi Literal and Art Academy.
Her permanent exhibition opened in 1991 in the attic of the Dyer Museum and on the occasion she donated her life-work to the museum. The exhibition presents the stations of the 40 years the artist spent in her career. Irén Bódy renewed the technique of dying in Hungary with the help of masters and raised them to the rank of textiles and tapestry.