Blue Dyeing Museum
- Pápa
Address:

8500, Pápa Március 15. tér 12.

Phone number:

(70) 663-3540

Opening hours:

Tue-Sun 10-18
Museum tickets, service costs:
Ticket for adults

2000 HUF

Ticket for students

1000 HUF

Ticket for pensioners

1000 HUF

Ticket for families

(2 adults + 1 child)

4000 HUF

/ family

Ticket for families

(2 adults + 2 children)

5000 HUF

/ family
In the second half of the 18th century, countries west of Hungary suffered from an overabundance of skilled labourers in the textile and dyeing industry. For this reason, individuals and entire families migrated to Hungary, thereby increasing the numbers of masters in the textile profession. Thus the ancestors of the Kluge family came to Hungary from Sorau in Saxony.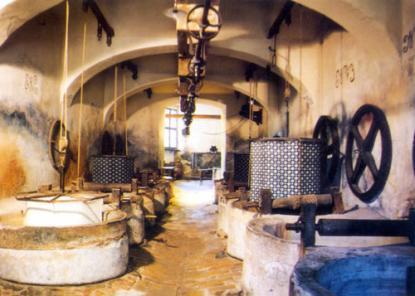 Johann Friedrich Kluge settled in Sárvár and joined in 1777 the main guild of Pozsony, which was a center for the textile industry in northwest Hungary. His son, Friedrich Kluge, established his own workshop in Sárvár in 1783 after finishing his journeyman trip. Later, in 1786, he moved to Pápa with his family.
Friedrich Kluge's workshop was the first textile workshop in Pápa and within a period of 100 years, two additional shops were founded. Through the years the Kluge firm was the first workshop as the result of the work of three generations. They had a great number of permanent buyers because of a large variety of good quality cloth. They took their professional education seriously and tried to keep their knowledge up-to-date.
The Kluge family realized the importance of mechanization in the textile industry. In the 1880s the family improved productivity of indigo printing by building a large workshop to accommodate all-season dyeing and drying of the cloth. Before that time, indigo printing was a seasonal industry because it was not possible to successfully dry the fabric in winter. At low temperatures the product became grey and of poor quality. The hand-operated Perrotine machine was also erected in the new building.
By the 1900s, the Kluge family developed their plant and built a new workshop where larger machines could be placed. A steam engine, of 23 horsepower operated a great mangle, a starching machine and a calander. This modernization process took 13 years. World War II set production back because of the lack of raw materials. Seven generations continued to develop the enterprise until 1956 when the government took control of the factory. The buildings and machines received protection by being given the status of historical monuments.