Jenő Ádám Memorial House
- Szigetszentmiklós
Address:

2310, Szigetszentmiklós Árpád utca 29.

Phone number:

(24) 368-264

Opening hours:

Temporarily closed.
Museum tickets, service costs:
| | | |
| --- | --- | --- |
| Group guide | 1500 HUF | / group |
The Ádám-family moved to Szigetszentmiklós from Alcsút at the end of the 19th century. The grandmother of the school teacher was a midwife from 1869 to 1921. His daugter got married to policeman István Ádám in 1894. They had two children: Jenő (1896) and Lajos (1898).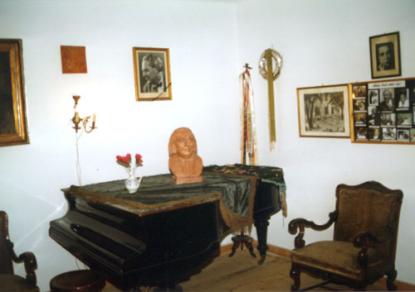 In the four rooms of the Memorial House a rich material rerepresents the lifework of Jenő Ádám. In the first room we can see the relics, documents and books demonstrating the 60-year-long work of the teacher.
Jenő Ádám and his brother Lajos were born in the second room. Here we display one of the pianoes, some furniture and books of the teacher. His bandmaster costume and sticks are displayed in a separate glass-case. Family photographs, paintings and wreaths are hanging on the wall.
In the third room we can see 3 pictures of the 9 years-old Jenő Ádám's paintings. Few people know how talented a painter he was. He spoke 4 languages and had six teacher degrees, so he needed no interpreter during his foreign visits. The relics of his work as a church-music composer, psalm translator, his rewards and diplomas can be seen in this room. The books, postcards, notes received from famous people (and letters from Bartók and Kodály) are displayed in a separate glass-case.
In the last room we can see his library and office furniture and some of his personal items.