Danube Museum - Hungarian Museum of Water Administration and Environmental Protection
- Esztergom
Address:

2500, Esztergom Kölcsey utca 2.

Phone number:

(33) 500-250

Opening hours:

Temporarily closed.
Museum tickets, service costs:
| | | |
| --- | --- | --- |
| Ticket for adults | 700 HUF | |
| Ticket for students | 350 HUF | |
| Ticket for pensioners | 350 HUF | |
| Ticket for families | 1200 HUF | / family |
The exhibition demonstrates the history of pottery in Mezőtúr, from the 18th century to this present-day.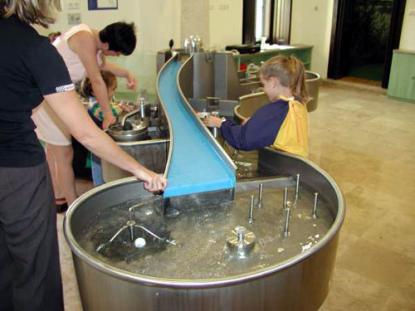 Written materials prove that the potters joined in guilds as early as in the 18th century. Initially they made black pots. Their specific product was the pitcher.
The glazed painting was introduced in Mezőtúr in the 1840'ies. We can see the two green guild pitchers, gifted by Péter M. Szabó and Mihály Tóth in 1836, at the time of their acceptance to the local guild. These were made in Hódmezővásárhely.
The classical era of the Mezőtúr ceramics can be dated to the 1880-90 years. The ground-colour of the pots is yellowish, ornamented by red, green, brown, and later blue flowers. The pitchers and big dishes were made atthis time.
A long way was leading to the classical ceramics of Mezőtúr. Previously there had benn shorter periods (green glazed, white glazed, etc.) which are demonstrated in details by the exhibition. At the turn of the century Balázs Badár (1855-1939 made the Mezőtúr pottery famous throughout Europe. Other renowned potters were: István Gombos ,István Békési ,István Szappanos ,Lajos Krizbai , Gábor K. Nagy and István Kádár
At the beginning of the 20th century the Hungarian argillaceous industry got into a crisis. Potters started to make ornamenting pots, in order to make their living. In 1910 they arranged an argillaceous industrial course in Mezőtúr, where potters were taught for the use of the brush and new paints. The period between the two world wars (1918-1939) is one of style addlement. The potters were flooding the market with worthless materials.
A change were brought about by the Argillaceous Industrial Co. in established in 1951. Potters studying here formed their own styles by leaning to the conventions of the region.The exhibition presents a great scale of the selection of their works.
museum hours