Country Museum of Borsod
- Edelény
Address:

3780, Edelény Borsodi út 155.

Phone number:

(48) 525-080, (30) 628-3007

Opening hours:

01.04- 31.10.: Tue-Sun 9-17
Museum tickets, service costs:
| | | |
| --- | --- | --- |
| Ticket for adults | 240 HUF | |
| Ticket for students | 120 HUF | |
| Ticket for pensioners | 120 HUF | |
The Earthwork of Borsod is situated 30kms to the North of Miskolc, at the bank of the Bódva river. The castle used to be the center of Borsod county. The settlement around it - which was attached to Edelény in the 1950'ies - was the denominating settlement (Borsod) of the county.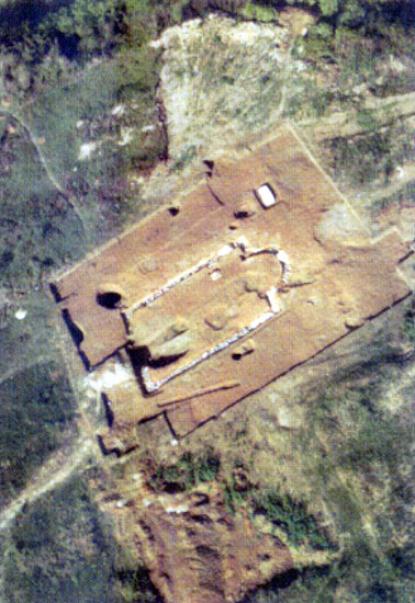 The historical Boesod county is one of those established by St. Stefan during the establishment of the state. The early counties were led by the bailiffs assigned by the king. Their work involved county administration,directing the judgment and tax collection duties, and the arrangement of the military operations. Their residence used to be at places such as the Borsod castle.
The excavation of the castle (1987-1999) proved that - in contrast with the former though - the castle was not built as a renovation of a prehistoric fort. The castle walls were built around the end of the 10th century on a natural hill above Bódva village. A woodwn structure had been supporting the walls, which was usual in the castles of the time. These castles were impregnable by the art of warfare dominating in those times.
The center of the deans used to be in the bailiffs' headquarters. The church excavated in the castle used to be a center like this as well. There was another church building in the county centre, too. Its ruins were discovered underneath the present Calvinist church.
During the excavation works we found the ruins of a settlement of the 10th century. The simple mud houses were burnt down, and the castle was built on the top of their ruins. All the equippments of the houses wee kept.
According to the written work of Anonymus the castle was built by captain Bors. However, up-to-date scientific researches have proved the castle to have been built in the 11th century. Nevertheless it is certain that the castle and later the county were named after captain Bors.
The exhibition demonstrates the everyday life and agriculture of the 10th-century settlement. The religious and secular life of the county centre (11th-13th centuries) are also represented.
(text: Mária Wolf)