Petőfi House and Memorial Museum
- Kiskőrös
Museum tickets, service costs:
| | | |
| --- | --- | --- |
| Ticket for adults | 500 HUF | |
| Ticket for students | 250 HUF | |
| Ticket for pensioners | 250 HUF | |
The popular monument building (of three divisions, mud wal and thatched roof) was opened by Mór Jókai in 1880. The house had been renovated and the furniture of the family brought up from Budapest. The dream was brought about by 1953.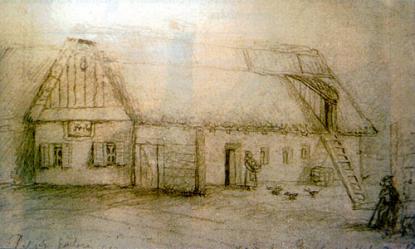 The room facing the street keeps the conditions of the time of the poet's birth. Carved benches, chairs, a table and wall ornaments recall the age. The floor and the ceiling were made of wood. There is a whitewashed oven in the corner.
The middle room is the kitchen (characterized by an open chimney), where some tools of the nurse Zsuzsanna Kurucz are displayed. The bench standing here is an ethnographic rarity. The open chimney of several functions is an interesting item. In one of the corners there stands a tuliped wooden box and stripes placed on the wreaths brought by the visitors.
In the moving box of the father there are documents dated around the birth of the poet. These also prove that the family stayed in Kiskőrös for a long period.
Mária Hrúz was expecting her first child here. Sándor was baptized in the Lutheran church by priest Mihály Martíny on New Year's Eve. The baptismal data were written in Latin language – according to the general practice of the age.
A babtismal jug, a well and a picture made by Grimm Vince in 1861 are also displayed. This latter one is the only picture of the entire family.