Károly Viski Museum
- Kalocsa
Address:

6300, Kalocsa Szent István király út 25.

Phone number:

(78) 462-351

Opening hours:

01.11-14.03: closed

15.03-14.05 and 16.09-31.10: Tue-Sat 9-17

15.05-15.09: Wed-Sun 9-17
Museum tickets, service costs:
| | | |
| --- | --- | --- |
| Ticket for adults | 300 HUF | |
| Ticket for students | 150 HUF | |
| Ticket for pensioners | 150 HUF | |
| Guide | 600 HUF | |
| Photography | 800 HUF | |
| Video | 3000 HUF | |
The Sárköz of Kalocsa is the flood inflicted area in the Ordas-Kecele-Szeremle triangle. The epithet 'Kalocsai' helps to distinguish between the Sárköz along the Danube and the Sárköz of the Transdanubian Tolna County. In the Middle Ages these two areas were a unit, the people and the settlements were called: Sárközi. In the New Age the Sárközi people living on the different coasts of the Danube had different fates; from the 18th century we distinguish these two areas.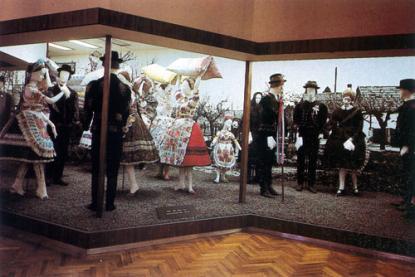 On the area of the 'Sárköz of Kalocsa' the Hungarian population and the nationalities are diverse: several ethnic groups and folks can be separated. The most widely known is the Catholic population of Kalocsa and its area called 'Pota'. Opposite to them on the other side of the Danube lives a reformed ethnic group which has lived at this area since the original settlement. The Reformed community of Ordas and Paraj; Bogyiszló ended up on the other side of the Danube following its regulation; the catholic Fajsz, Sükösd and Cseremle are all lands occupied by Hungarians. The catholic Slavian population of Bátya and Dusnok call themselves 'Rác'; the Slovak people of Miske call themselves 'Tót'. The three Swabian German villages of the 'Sárköz of Kalocsa' are Császártöltés, Nemesnádudvar, and Hajós.
The exhibition titled 'Ethnic groups and lifestyle in the Kalocsan Sárköz' introduces the life and culture of the ethnic groups of the 'Sárköz of Kalocsa' in the 18-20th century emphasizing the culture, traditions, and past of the group called 'pota'. In certain cases the exhibition comprises data on settlements that are over the boundary of the original Sárköz, but used to be part of the lordship of the archbishop.
The exhibition has both ethnographic and historic strains: the wards have display of the ethnography and the history of people. The historic documents explain the ethnographic events; the relics on the other hand complement the historic pictures of the diverse periods.