István Türr Museum
- Baja - Szentistván
Address:

6500, Baja - Szentistván Deák Ferenc utca 1.

Phone number:

(79) 324-173

Opening hours:

15.03-19.12.: Wed-Sat 10-16
Museum tickets, service costs:
Ticket for adults

(valid for the ethnographic exhibitions)

460 HUF

Ticket for adults

360 HUF

Guide

600 HUF

Guide

(in German)

2000 HUF

Photography

300 HUF

Video

1000 HUF
The over 300 year history of the settlement of Baja is indicated in the title of the exhibition. However we only show Baja's history after the period of the Turkish reign. We use the tools of museology showing the life of Baja from 1969 until 1990.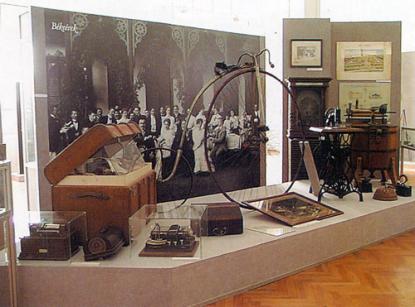 Among the memoires of the Turkish period we show a few very valuable objects. Time traveling begins here. The treasury seized the town and its surrounding area at the time of the wars of liberation lead by the Empeors of the habsburg Empire. Lipót I. declaired Baja the county town of the treasury in 1969.
The town was deserted in the fights with the Turkish. New population arrived to Baja and the new ethnic composition formed. Officers from Austria arrived, the Bunyevác and the Serbians from the Balcan came to Baja and its surrounding area at the end of the 17th century. Under the reign of Mary Teresa and Joseph II a large number of Germans arrived in the town.
Baja was a very important port on the Danube. Her industry and commerce flourished this is why it was called Small Pest at the end of the 18th century. The rich town of commerce attracted the Jewish and at the beginning of the 19th century.
The building of the railways was not subservient for Baja and as the result of this, the development of the town slowed down. Following WWI Baja was seized by the Serbians, found itself at the border of Hungary, but did not flourish even though it was a chief town of the county. The documentation of the Serbian occupation, the objects of trades, and a interiour of a dining room of a civic family represent this period.
The posters of WWII, the memoirs of the war prisoners, the documentation of the bombing of the bridge over the Danube are followed by the posters and objects of the rebuilding of the town.
The atmosphere of the fifties is caught by an interiour and a brick wall built up symbolically, a socio-real painting tilted. Besides the documents of the revolution of 1956, the monuments built in memory of the revolution in Baja is shown in a photo.
The last section of the exhibition starts with a poster of WWII. It is opposite to another one showing the danger of the bolshies. The poster of the 1990's titled "Tovarisi konyec" is also present beside the posters of election of the 90's placed parallel with the same kind of posters of the 1947's. They faithfully show the atmosphere of the period. The exhibition is closed with the new coat of arms of the town of Baja.