Bihar Museum
- Berettyóújfalu
Address:

4100, Berettyóújfalu Kálvin tér 1.

Phone number:

(54) 402-390, (54) 500-340

Opening hours:

Mon-Fri- 10-16
The exhibition has closed for visitors.
2011.06.24.
-
2012.01.15.
Museum tickets, service costs:
Ticket for adults

500 HUF

Ticket for students

(6-26 years of age)

250 HUF

Ticket for pensioners

(62-70 years of age)

250 HUF

Group guide

(up to 25 people)

1000 HUF

/ group

Photography

500 HUF

Video

500 HUF
The formation for the Sport Club of Berettyóúkfalu was signed on 1 October 1911; however, it began in 1910, which is proven by a photo in the Bihar Museum. During the 1900s, the club included various sports, e.g. tennis, fencing, ice-skating, volleyball, boxing, chess, cycling, weight-lifting, with outstanding national wins.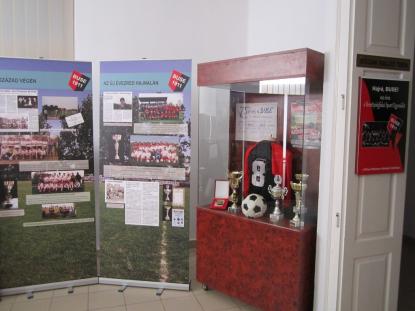 Archive photos, documents evoke the history of the sport club that has always played very important role on the social scene of the small town. In addition, we also show a montage of football games between the BUSE and FTC from 1991.