Intercisa Museum
- Dunaújváros
Address:

2400, Dunaújváros Városháza tér 4.

Phone number:

(25) 411-315

Opening hours:

Tue-Sat 10-16

On the first Sunday in each month is open: 14-18
The exhibition has closed for visitors.
2010.10.01.
-
2010.11.26.
Museum tickets, service costs:
Ticket for adults

700 HUF

Group ticket for adults

(from over 10 people)

700 HUF

Ticket for students

350 HUF

Group ticket for students

350 HUF

Ticket for pensioners

350 HUF

Group ticket for pensioners

350 HUF

Ticket for families

1400 HUF

/ family
220 new items were acquired by the Intersica Museum in 1974 from the library of the count Győry family of Perkáta. Most of the books, periodicals, music sheets are from the 18-19th century.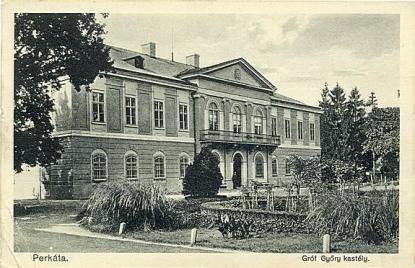 Maria Teresa donated the estate in Perkáta to the baron Ferenc Radványi Győry (1723-1790) on 25 June 1775. Joseph II gave the count title to him and his posteriors on 20 January 1875. The history of the estate in Perkáta was connected to this family until the last day of their existence.
Ferenc Győry began his career as the assistant notary for Tolna County, then he was a draftsman at the Royal Court committee, the secretary of the local committee and later advisor to the same body. He fulfilled increasingly more important positions. His education and creativity is well explained by the manuscripts he wrote during his life on the public scene.
The estate in Perkata was inherited by his son, Ferenc Győry (1774-1839) who was known for his love of theatre. He was first the lord lieutenant of Tolna, then of Bács-Bodrog County.
His son, László (1807-1882) founded the convent Saint Vince of Paula in Perkáta in 1878, as well as the girl school and kindergarten.
His daughter, Terézia (1843-1936) did not get married. She stayed in Perkáta and managed part of the estate. After her death, the part she owned of the estate was inherited by the granddaughter of her sister who owned it until the land reform in 1945.
Paper restorers for the Intersica Museum performed the restoration works financed by the national Cultural Fund. In 2009 and 2010 they restored 8 books.
One of the most important intentions of the museum was to show items that had been preserved in the museum storehouse and had never been shown before. Our showing of the compilation set from the count's library is to demonstrate the quality work the restorers performed.
the museum also borrowed material in relation with the Győry family from the National Archives, the National Széchenyi Library, the Fejér County Archives, the Museum of Applied Arts and also from private personae .
A separate chapter deals with the process of book restoration in relation with we organize arts and crafts activities for school groups. The students can learn about binding and paper marbling.
Mrs. Matuss Dr. Márta Lendvai