Blaskovich Mansion Museum
- Tápiószele
Address:

2766, Tápiószele Múzeum út 13.

Phone number:

(53) 380-157

Opening hours:

28.02-14.11.: Tue-Sun 9-17

15.11-31.01.: Tue-Fri 10-16
recommended age:
10 - 12 year
Ticket prices
Program ticket

(comprises of the ticket cost )

300 HUF

/ capita
Museum pedagogy contact person
Gócsáné Móró Csilla
(53) 380-157
Equipment in the institute
Professionals:

museologist
Leisure equipment:

portable chairs,

rest stop,

seat cushions
Traffic:

parking lot
Related exhibitions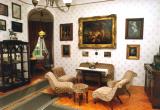 The most beautiful room of the mansion is the empire parlour. The walls are decorated with paintings made by Károly Kisfaludy, Miklós Barabás, Alajos Györgyi Giergl and 17th-18th century Italian, Netherlandish and Austrian painters. The most outstanding of them are Christ on the Cross, Tintoretto shool (17th century); Strom at Sea ny Vernet (18th century); Baptism of Christ by Danhauser; Christ Is Healing the Lame Man by Fiamingó. In the glass cases porcelains from Vienna and Meissen and glass objects are displayed.

further exhibitions