recommended age:
7 - 18 year
Related exhibitions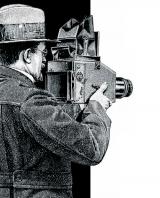 The engineer Zoltán Dömötör from Mályi did not load the shelves in his house with books or porcelain ornaments but beautiful old cameras. His habit of collecting cameras in the past thirty years resulted in a complex photography history material.
His collection consists of around one-thousand cameras, a few hundred movie cameras, movie- and still projectors, hundreds of books on photography and a store full of tools and laboratory equipments. Thousands of Carte de visites and photos from around the world add to the collection where the pieces are from the 1850s to the 1950s.
The showing on the history of photography goes back to the second part of the 19th century. The material is displayed in chronological order. The biographies of the most important people related to photography history are shown on walls next to the photos.
Two accordion cameras on stands are situated in two corners of the room. The origins of one of them is unknown, it is probably from the 1860-70 period. The other one is a IHAGEE CORONA, from 1918.
Cameras on stands in the hallways all have remarkable stories. Some of them are interesting from the point of view of history, some are interesting for their Hungarian connections, some are remarkable for their human relationships and other have family value.
Jewels of photography history are positioned in lit cases in the middle of the room, such are miniature cameras, photometers etc. Curiosities of photography history are shown in room 2 in thematic order.
The museum pedagogy room is an interactive room for the visitors to check out. School groups, families and individuals can use this space for museum classes, playhouses and lectures.