Jász-Nagykun-Szolnok County Museums Authority - János Damjanich Museum
- Szolnok
Address:

5000, Szolnok Kossuth tér 4.

Phone number:

(56) 510-152

Opening hours:

18.01-11.12.: Tue-Sun 9-17
recommended age:
10 - 18 year
Museum pedagogy contact person
Pató Mária
(56) 510-152
Equipment in the institute
Professionals:

kindergarten teacher,

museologist
Rooms:

activity room,

lecture room
Leisure equipment:

accessible restroom,

audio guide,

baggage room,

cloakroom,

gift shop,

medical office nearby,

playground,

portable chairs,

rest stop,

restaurant nearby,

seat cushions,

wheelchair
Traffic:

accessible building,

parking lot
Related exhibitions
1970.01.01. 01:00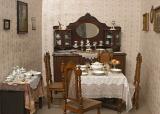 By the turn of the century a typical civilian atmosphere was developed in Szolnok, which is - regardless of its colourful and versatile features - characterized by a special unity. This is demonstrated through the dwelling house bearing civilian-peasant features.

further exhibitions