Hanság Museum Collection
- Mosonmagyaróvár
recommended age:
6 - 18 year
Museum pedagogy contact person
Equipment in the institute
Professionals:

museologist
Leisure equipment:

medical office nearby,

portable chairs,

restaurant nearby,

seat cushions
Related exhibitions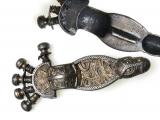 The ethnographic, local history and archeological exhibition presenting the history of the Flat of Moson is open in the building of the Hanság Museum in Szent István Street. The ethnographic part presents tools of ancient professions such as fishing, gold mining etc. With the song of birds, the showing almost comes to life.

further exhibitions