Hungarian Museum for Science, Technology and Transport - Museum of Metallurgy
- Miskolc - Hámor
Address:

3517, Miskolc - Hámor Palota u. 22.

Phone number:

(46) 379-375

Opening hours:

Tue-Wed on prior notice, Thu-Fri 10-16, Sat 10-16
recommended age:
8 - 18 year
Museum pedagogy contact person
Ágoston Katalin
+36(46)379375
Equipment in the institute
Professionals:

museologist
Rooms:

lecture room
Leisure equipment:

accessible restroom,

gift shop,

medical office nearby,

portable chairs,

restaurant nearby,

seat cushions
Traffic:

parking lot
Related exhibitions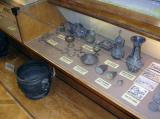 The permanent exhibition presents the development of iron metallurgy from the Antiquity until nowadays. The development of iron metallurgy is presented in four wards. Besides, the visitors may also learn of the history of the development of wire and screw production, as well as the examination of material in iron metallurgy.

further exhibitions