Budapest History Museum - Aquincum Museum
- Budapest
Address:

1031, Budapest Szentendrei út 135-139.

Phone number:

(1) 250-1650, (1) 430-1081

Opening hours:

01.04-31.10.: Tue-Sun 10-18

Park: 9-18

01.11-31.03.: Tue-Sun 10-16<
recommended age:
9 - 10 year
Museum pedagogy contact person
Ódor Bernadett, Bögi Enikő
+36(1)2501650
Equipment in the institute
Professionals:

museologist
Rooms:

activity room,

lecture room
Leisure equipment:

accessible restroom,

buffet,

cloakroom,

gift shop,

medical office nearby,

palpable exhibition,

rest stop,

restaurant nearby,

seat cushions
Traffic:

accessible building,

museum map,

parking lot
Related exhibitions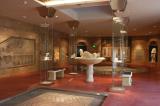 The exhibition hall is now spacious enough to hold the freshly restored mosaics and wall paintings from the governor's palace excavations. The visitors can also see monumental statues which formerly stood in sanctuaries, the dolphin fountain or a reconstruction of a large ornamental stone vessel (crater). These objects all reflect the luxurious nature of the palace's interior.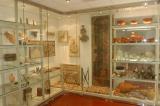 Storages of the Budapest Historic Museum preserved one of the largest archaeology collections in Hungary. An archaeology collection with millions of objects from ancient times to the Original Settlement is located in the Aquincum Museum.

further exhibitions