Nyúzó Gáspár Pottery Region House
- Tiszafüred
Address:

5350, Tiszafüred Malom utca 12.

Phone number:

(59) 352-106

Opening hours:

Temporarily closed.
The Nyúzó Gáspár Fazekas Region House was opened in 1980 in Tiszafüred. This was the last potter's house that could be identified and that is museologically valued. Junior Gáspár Nyúzó (1839-1910) and senior Gáspár Nyúzó (1864-1922) were their inhabitants.

Permanent exhibitions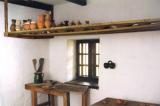 The house was furnished with the carefully protected pieces of furniture of several generations. The oldest of these is the late baroque sideboard of around 1830 that had belonged to the mother of the elder Gáspár.

further exhibitions