Petőfi House and Memorial Museum - Slovakian Region House
- Kiskőrös
Address:

6200, Kiskőrös Szent István utca 23.

Phone number:

(78) 414-255, (78) 312-566

Opening hours:

Tue-Sun 9-12, 13-16
The peasant house under the address of 23, Saint Stephen Street is a comfortable, thatched roofed house. The life, culture, and objects of the peasants can be learned of at our exhibition.

Permanent exhibitions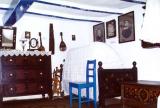 Among the exhibitions organized in the inner space the so-called 'clean room' recalls the memory of the atmosphere of celebration. The bed made with bedspread used on unique occasions can be seen here. The corner bench and the table covered with handmade tablecloth appear in the kitchen.

further exhibitions