Sopron Lutheran Museum
- Sopron
Address:

9400, Sopron Templom utca 12.

Phone number:

(99) 510-651

Opening hours:

15.04-20.10.
Museum tickets, service costs:
| | | |
| --- | --- | --- |
| Ticket for adults | 80 HUF | |
| Ticket for students | 40 HUF | |
| Ticket for pensioners | 40 HUF | |
| Ticket for families | 160 HUF | / family |
The treasures of the Evangelic Church of Sopron are from the period following the fire of 1676. They are partly made by Hungarians, partly foreigners. The followers gave donations to fulfill the loss. These treasures are shown in the permanent exhibition titled 'One Hundred Years of the Evangelic Congregation of Sopron' which opened in 1986.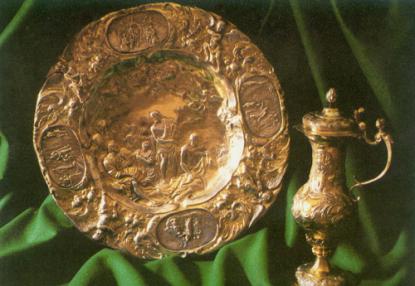 The christening bowl given by Ádám Gálffy in 1676, a beautiful work of the goldsmiths is shown. The bowl is made in relief. In the center the baptizing of Jesus, on the side scenes of the Bible are portrayed. Its diameter is 63 centimeters and it weights almost 3 kilograms. Thelot Anton made the ciborium in Augsburg. The cachet holder is ornamented by three relieves.
One of the oldest objects is a late Gothic chalice from the 16th century. Its basket shows Hungarian characteristics.
The Baroque chalice is a good example of the excellence of the Baroque goldsmiths. It is ornamented by gemstones; the pictures are scenes taken from Passions. It is used once a year at occasions of Confirmations. Passion scenes also cover its bottom.
The silver jug ornamented with gold was made in the middle of the 17th century. According to its form and style, a Hungarian artist made it in the late Renaissance period. Lajos Egedy donated it. The small chalices of Lord's Supper and the gofer holders are also of interest.
János Lölhöffel donated the silver jug and the money-collecting chest made of iron. The cross with relieves with corpus was made by Thelot Anton.
Our archive material plays an important part also. The volume of Barth János Konrád (1634-92), priest written about the recapturing of Buda, the "Buda secepta" is very interesting. Many handwritten documents and printed books from the Enlightenment until the 20th century are presented.