János Xántus Museum - Castle Underground Channel - Stone Store
- Győr
Address:

9021, Győr Bécsi kapu tér 5.

Phone number:

(96) 310-588

Opening hours:

24.05-30.09.: Tue-Sun 10-18
Győr, the centre of the county governor was a fortified place from as early as the age of King Saint Stephen (1000-1038). The medieval castle encircled the Chapter Hill (Káptalandomb). The strategic importance of the castle was enlarged during the Turkish Age (16-17th centuries) when becoming the strongest fortress of the defence line it played the part of the defence bastion of the emperor's city (Vienna) and the whole Christian World.

Permanent exhibitions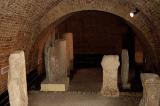 The beginnings of the Roman stone collection goes way back. Interest in stones with inscription was noted from the Renaissance. Bolfini refers to the inscription that was later built in the wall of the Cathedral of Győr and has been there since. The altar stone in Bőny-örkénypuszta, the oldest piece of our collection, was described by Megyerichei János in the 16th century.

further exhibitions