FertƑrákosi KƑfejtƑ
- FertƑrákos
CĂ­m:

9421, FertƑrákos FƑ u. 1.

TelefonszĂĄm:

(99) 530-404, (99) 530-400

Nyitva tartĂĄs:

III.27-X.31.: H-V 10-18
A program már nem tekinthetƑ meg.
MĂșzeumi belĂ©pƑk, szolgĂĄltatĂĄsok ĂĄrai:
EgyĂ©ni belĂ©pƑ felnƑtteknek

1800 HUF

EgyĂ©ni belĂ©pƑ diĂĄkoknak

1200 HUF

Csoportos belĂ©pƑ diĂĄkoknak

(20 fƑ felett)

1000 HUF

EgyĂ©ni belĂ©pƑ nyugdĂ­jasoknak

1200 HUF

BelĂ©pƑ csalĂĄdoknak

4000 HUF
"PĂ©ldaszerƱ az a termĂ©szetessĂ©g, ahogy az Amadinda a vilĂĄghoz kapcsolĂłdik (Ă©s azutĂĄn a vilĂĄg is hozzĂĄ). Egy törtĂ©netet lĂĄthatunk, amely megtalĂĄlta a sajĂĄt formĂĄjĂĄt – ez törtĂ©nik. És ez valĂłban ritka. Öröm a kortĂĄrsuknak lenni." (EsterhĂĄzy PĂ©ter)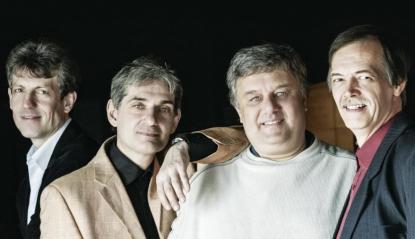 Az Amadinda egyĂŒttes 1984-ben alakult meg, tagjai a budapesti ZeneakadĂ©miĂĄn vĂ©geztĂ©k tanulmĂĄnyaikat. Az egyĂŒttes a mĂĄr klasszikussĂĄ vĂĄlt ĂŒtƑhangszeres kompozĂ­ciĂłk bemutatĂĄsa mellett a kezdetektƑl fogva megkĂŒlönböztetett fontossĂĄgot tulajdonĂ­tott annak, hogy mƱködĂ©se inspirĂĄciĂłt nyĂșjtson magyar Ă©s kĂŒlföldi zeneszerzƑknek egyarĂĄnt.
A 90-es Ă©vek mĂĄsodik felĂ©ben az emlĂ­tettek mellett hĂĄrom Ășj, markĂĄns cĂ©lkitƱzĂ©s jelent meg az egyĂŒttes munkĂĄssĂĄgĂĄban: a tradicionĂĄlis ĂŒtƑhangszeres kultĂșrĂĄk kutatĂĄsa, az egyĂŒttes tagjainak zeneszerzƑi tevĂ©kenysĂ©ge, valamint korĂĄbbi zenetörtĂ©neti korszakok darabjainak ĂŒtƑhangszeres ĂĄtiratban valĂł megszĂłlaltatĂĄsa.
Ezek a törekvĂ©sek egyedĂŒlĂĄllĂł repertoĂĄrt eredmĂ©nyeztek, melyet az Amadinda 35 Ă©v alatt 4 kontinens 35 orszĂĄgĂĄban mutatott be nagy sikerrel olyan helyszĂ­neken, mint a Philharmonie Berlin, Wiener Konzerthaus (BĂ©cs), Royal Albert Hall (London), National Concert Hall (Taipei), a National Center for Performing Arts (Peking), a Meyerson Symphony Center (Dallas) Ă©s a new york-i Carnegie Hall. Az Amadinda fennĂĄllĂĄsĂĄnak 30. Ă©vfordulĂłjĂĄt 2014-ben, a vilĂĄg legnagyobb ĂŒtƑhangszeres rendezvĂ©nyĂ©n, az EgyesĂŒlt Államok-beli Indianapolis-ban megrendezett Percussive Arts Society konvenciĂłjĂĄn ĂŒnnepelte a nemzetközi szakma.
John Cage, Ligeti György, Steve Reich, a XX. szĂĄzadi zenetörtĂ©net e hĂĄrom meghatĂĄrozĂł alakja is darabot komponĂĄlt az Amadinda szĂĄmĂĄra. Az egyĂŒttes jĂĄtĂ©ka több mint harminc lemezen hallhatĂł, amelyek közĂŒl talĂĄn a legkiemelkedƑbb az a hat CD-bƑl ĂĄllĂł sorozat, amelyen az Amadinda közel hĂșsz Ă©vig dolgozott Ă©s amelyen John Cage összes ĂŒtƑhangszerekre komponĂĄlt mƱve hallhatĂł.
Az Amadinda egyĂŒttes az elmĂșlt 35 Ă©vben olyan vilĂĄghĂ­rƱ mƱvĂ©szekkel koncertezett, mint Kocsis ZoltĂĄn, Schiff AndrĂĄs, Marton Éva, KurtĂĄg György, Eötvös PĂ©ter, Presser GĂĄbor, Keller AndrĂĄs, a Theatre of Voices Ă©s Paul Hillier, Rivka Golani, James Wood, Ă©s az Eighth Blackbird egyĂŒttes. A velĂŒk valĂł egyĂŒttmƱködĂ©s nagyban hozzĂĄjĂĄrult ahhoz, hogy mĂĄra az AmadindĂĄt az egyik legeredetibb ĂŒtƑhangszeres egyĂŒtteskĂ©nt tartja szĂĄmon a vilĂĄg szakmai közvĂ©lemĂ©nye.