Exhibition Hall of the Police Historical Museum - Tarnaméra
- Tarnaméra
Tarnaméra is a village with a population of 2000. It is situated along the river Tarna in Heves County. The castle in the middle of the village was built by the Almásy family and was bought by the Schslossberger family later. After WWII, it was nationalized, a primary school occupied it. As at the time of the renovation works frescoes were found in many rooms, the building was declared national monument. An exhibition on local history was also located in the castle. The vet Dr István Gulyás and the lieutenant colonel Dr. Ottó Francsics provided the basis of the collection.

On 5th, November, 2001 the curators of the foundation decided on handing the collection over to the ORFK.

The name of the attendant changed from 2002: Police History Museum. The material in the castle in Tarnaméra is registered as: 'Police - Location of the Historic Museum - Tarnaméra'.

We realized a completely new installation in 7 wards of the castle. The material on local history provided by the Dobó Museum of Eger was unchanged. On the upper levels, two wards contain material in connection with the police and gendarmerie from before 1945 and the period between 1945 and 1989. We formed a tableau in both wards. In the following five wards of the castle we present our permanent exhibition titled 'Exhibition Hall of the Police Historical Museum - Tarnaméra'.

Since the castle is only open from 1st, April until 1st, October we created the installations mobile so we can transport them anywhere in and outside of Hungary.

We wish to create an IPA museum in the future for which we already hold the material. We also wish to provide a larger space for the presentation of the show titled 'Police of the Country before 1956' complementing it with information on modern gendarmerie.

Permanent exhibitions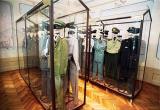 The exhibition - entitled "The police institutions of the world" - demonstartes 127 uniforms of 91 countries in 5 exhibition rooms. Most of the uniforms were gifted to the museum on the 70th Committee of the Interpol.

further exhibitions