Báder Region Historical and Wine Museum
- Bicske
Address:

2060, Bicske Szent László út 43.

Phone number:

(22) 350-727, (22) 261-234

Opening hours:

Mon-Sun 11-18
The Hotel Báder Inn is found at the Northern border of Fejér county, in Bicske. Besides the prompt and polite service visitors are also welcomed by a region history exhibition. The collection was placed in the park of the Inn. The material recalls the memory of the work and life circumstances of our fathers and mothers.

The collection is placed in various buildings erected especially for this reason. It contains the tools and facilities of the work of the village people. In their arrangement we tried to faithfully represent the circumstances of those days.

The exhibition is only a few minutes walk from the restaurant, and can be visited between 10 and 16 o'clock each Saturday and Sunday.

Be the exhibition and a short historical introduction We are hoping to please our visitors and hotel guests the best service we can offer.

Permanent exhibitions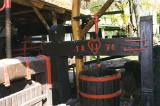 Machines of tillage and forage are located in a separate building eg choppers, grinds, hand grinds, different storages and transportation vehicles, hackers, hoes etc. In the back shed, we displayed a chopper, seed cleaners, wagons, wooden shells etc. In the shed opposite of this, there is a horse carriage used at fire distinguishing.

further exhibitions