Subalyuk-Museum
- Cserépfalu
Address:

3413, Cserépfalu Kossuth utca 152.

Phone number:

(49) 423-132

Opening hours:

01.05-30.09: Tue-Sat 10-16
The entrance of the museum represents the entrance of the Subalyuk cave and the museum logo. Visitors coming to see the remains of the Neanderthal man are welcomed by the statue of sculptor István Borsos.

The cave was nominated after cave-dweller Lukács Suba. The permanent exhibition represents the circumstances of the excavation and gives the replica of the stone tools and human bones found here. When the French archeologists got to know that Cserépfalu wants to establish a museum for the demonstration of the cave and the relics found in it, they presented the first replica of the relics to our settlement.

Ildikó Papp, director of the Antropology Store of the Natural History Museum, wrote in our guest-room: "I am delighted to have handed over the replicas to the Subalyuk Museum in the name of the French collegue (Dr. Mario Check - Muzé Paris) and the Natural History Museum. A number of antropologist come to Hungary exclusively to look at the relics exhibited in the museum. Many people only know of the existance of Hungary through the relics of Subalyuk museum.

We trust that all visitors will enjoy staying at Cserépfalu and looking at the remains of the Neanderthal man.

Permanent exhibitions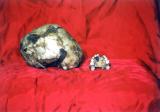 In the second room we can read about the archeologic significance of the Subalyuk, where the most important relics of the Neander-valley man were excavated by János Dancza and Ottokár Kadic. In the photocopies we can see the stations of the excavation, and another display represents the exact spots where the relics were found

further exhibitions