Piety Museum and Collection of Funeral Culture
- Budapest
Address:

1086, Budapest Fiumei ├║t 16-18. M ├ęp├╝let I. em/1.

Phone number:

(1) 896-3792, (70) 642-5090

Opening hours:

Mon-Sun 9-17
The Piety Museum presents on the one hand the traditional burial ceremonies with their ethnographic collection, on the other hand with city-specific relics, the civil burial culture. In addition to exhibitions that showcase the unique segment of cultural history, the museum regularly gives space to various contemporary art manifestations and thought-provoking programs.

Permanent exhibitions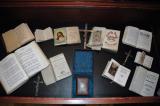 The photo, book and letter archive holds the written and picture memories of Hungarian piety culture.

The fashion of mourning was - in the 19th century - dictated by Viennese dress designers. This turned into an independent field only in the 1870'ies. We may follow the history of and cahnges made in the mourning fashions through contemporary magazines.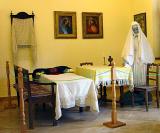 The material of the ethnic groups living in the Carpathian basin was placed in the first room of the museum (which has four divisions). In the popular customs the passing of time used to be an occasion for celebrations and the colour of mourning used to be white - instead of black.

further exhibitions