Mecsek Mining Museum, Underground exhibition
- Pécs
Address:

7621, Pécs Káptalan utca 3.

Phone number:

(30) 934-6127

Opening hours:

01.04-31.10.: Tue-Sun 10-18

01.03-31.03 Tue-Sun 10-16
The past was preserved by the smaller companies under the management of the DGT after 1945. From the 1950's uranium was mined in the Mecsek as well. The companies created the permanent exhibition in the head office of the DGT and opened it in 1977. An idea of opening an underground exhibition ward occured even at the beginning of the 20th century, however it was only realized in 1981 under the name Mecsek Mine Museum which is 400 ms long on 1000 m2 8-10 ms undergraound.

Permanent exhibitions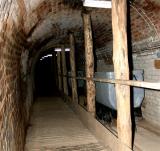 The idea of a mine-complex was born already in the times of FDSNC, in the beginning of the 20th century, but became real only in 1980 with the collaboration of Coal Mines of Mecsek, Mecsek Ore-mining Company and Mining Shafting Company. A 400 m long and 1050 m2 ground-square underground exhibition was made with the reconstruction and furnishment of a formar wine-cellar system in down-town of Pécs, on the corner of Káptalan and Janus Pannonius Street.

further exhibitions