Blue Dyeing Museum
- Pápa
Address:

8500, Pápa Március 15. tér 12.

Phone number:

(70) 663-3540

Opening hours:

Tue-Sun 10-18
The Blue Dyeing Museum in Pápa is the only blue dyeing museum in Hungary, but it is also a unique industrial historical monument in Europe, which presents the entire work phase of blue dyeing. In the process, our visitors can learn the secrets of the complicated procedure and learn that it is not an extinct craft at all, but it is still a thriving craft today.

The tradition of blue dyeing in Hungary was added to the UNESCO list of the intangible cultural heritage of mankind in November 2018.


Exhibitions that can be visited:

• The main building presents the collections of active workshops in Hungary in an old fair atmosphere, and commemorates the former masters.

• In the more than 250-year-old, three-storey drying building, the workshop of the Kluge family, who have operated the plant for seven generations, comes to life through the guided tour. In the drying attic, the works of the Mihály Munkácsy awardwinning craftsman Irén Bódy present the modern, artistic trend of blue dyeing and make the museum experience unforgettable.

• The remaining machine collection is also worth mentioning, as e.g. a steam engine from the famous Viennese company Hoffmeister, manufactured in 1912, can be viewed in perfect conditions too.

• Also a curiosity is the horse-drawn manger in the basement of the workshop.
Permanent exhibitions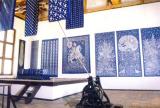 Irén Bódy graduated from the Collage majoring in textile pressing in 1952 before she began working as a designer for a factory where she spent ten years.

The printing room displays one of the most important aspects of blue dyeing, i.e. this is the very location where the master and his apprentices patterned the textiles for dyeing. The vivid patterns were applied to the white textile by means of a special resist paste called the 'pap' and printing blocks.

The Kluge family realized the importance of mechanization in the textile industry. In the 1880s the family improved productivity of indigo printing by building a large workshop to accommodate all-season dyeing and drying of the cloth. Before that time, indigo printing was a seasonal industry because it was not possible to successfully dry the fabric in winter.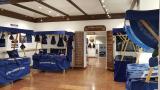 The task and purpose of the Blueprint Museum is to maintain the blueprinting craft and traditions, as well as to collect and exhibit its objective relics. That is why we visited the blueprint workshops still in function between 1984 and 1989. We arranged regular trade conferences and demonstrated these workshops to the visitors

further exhibitions