Museum of Óbuda
- Budapest
It is little known that the first Local- and Settlement Museum of Budapest first opened in Óbuda in 1927 in an old boy-school under the name of Árpád Museum of Óbuda. Its collection perished in WWII, so the museum of today is not the heir or successor of the Árpád museum, it is only its spiritual heritage.

Permanent exhibitions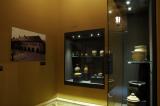 The Óbuda Museum is located in one of the nicest environments in Budapest, in the Baroque Zichy Castle at 1 Fő Square. The renovations of the building began in 2008. The new deign of the building is now in accordance with the designs of the square. The new permanent exhibition presents the rich history of Óbuda in three units, from the Middle Ages to the 1970s.

further exhibitions