Pál Molnár C. Studio Museum
- Budapest
Address:

1118, Budapest Ménesi út 65.

Phone number:

(30) 201-1073, (30) 303-7518

Opening hours:

Temporarily closed.
Molnár C. Pál is one of the most popular painters in Hungarian fine art. He created a variable and rich oeuvre in the 87 years he spent on Earth.

He was born in Tompapuszta near Battonya on 28, April 1894. His father Molnár József was an estate key holder, manager and basically did all the works. His mother Jeanne Contat, was a French-Swiss governess of the children of the family. Molnár-C. Pál admired his mother. After he became a famous artist, he took on the initials from the name Contat. This is how his artist name MCP was born.

His interest in technique, his studies of agriculture almost mislead him on his way to his real profession. The magazine called 'Our Flag' however, announced an application which he won when a student in Arad. It was an important turning point in his life when he turned towards art. He moved to the capital where he attended collage while he educated the son of a state secretary and the grandchildren of Szinyei Merse Pál in Fonyód. The state secretary moved to Switzerland with his family and took him along. He searched for the members of his mother's family. With their help, he painted a whole collection, especially landscapes that were exhibited in Lausanne and Geneva. After the financial and professional success of these exhibitions, he decided to fulfill his dreams: a journey to France. He found someone to support him. A rich woman from Switzerland commissioned a copy of a Tiziano. In exchange, she financed his stay in Paris.

All young artists wanted to go to Paris. Molnár C. Pál hurled himself into the Louvre where he copied pictures other than the Tiziano. He returned home in the autumn of 1922. He prepared for one more year for his exhibition in Budapest in the Belvedere. The exhibition was a considerable success. He became a KT member and began exhibiting regularly in the Belvedere, the Ernst Museum and the National Salon. In the meantime his humorous drawings published in magazines of the Ernst Papers became increasingly popular in the 20's. Moreover, at that time he was more accepted as a graphic artist. The next important step in his life was a scholarship to Rome for three years, in-1931.

His and his colleagues' ecclesiastic art was an innovation between WWI and WWII. The church took on a kind of patron role and the best place to see excellent art was at sermons. The unusual treatment of the church still continued when the air was cooling down' around MCP. He was declared an unwanted person in March 1944. This feeling influencd him greatly when he made the 'Suffering Jesus' where used for own face as a sample for the face of Jesus.

He worked inventively and a lot after WWII. He was happy to do any kind of work, so he did a lot.

He died on 11, July 1982 with the brush in his hand. He lived until he could work. Harmony is the mutual feature in all his works despite all the different styles he worked in. Harmony makes them all kind of MCP-like. He was a happy man he could do what he loved best and he managed to live on it despite the entire official disregard. The audience loved and bought his paintings.

His daughter Mrs Csillag Dr, Éva created the memorial museum after his death.
Permanent exhibitions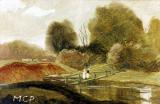 The art of Pál Molnár C. was greatly affected by Italian art. Even though he tried all new trends since he was a playful person, every new isms and schools excited his phantasm. Sill, Italian Renaissance and experience of three years formed his individual style.

further exhibitions