Address:

2364, Ócsa Dr. Békési Panyik Andor u. 4-6.

Opening hours:

01.02-30.09.: Tue-Fri 9-16, Sat-Sun 9-18

Winter Time Mon-Sun 9-16
The oldest part of Ócsa is the 'Old Village'. It is a real ethnographic curiosity with the Roman basilica built in the 13th century in the middle of the village. In 1975, the village part with 62 houses was declared protected since the structure of this part of the village is hundreds of years old.

Permanent exhibitions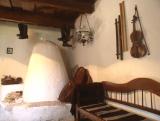 The County House is characteristic to the Great Planes. It is made up of a room, kitchen and room in a row. Its walls are made of clay, without a base. The roof is made of thatch. The 180-year-old building is under protection.

further exhibitions