Slovak Minority Region House
- Bánk
Address:

2653, Bánk Petőfi út 94.

Phone number:

(35) 300-168

Opening hours:

On prior notice
The exhibition open in the main street of the favored spa town provides insight into the spa culture of the Slovak people who settled in the region after the devastation of the Turkish. In the building built at the end of the 19th century, furniture of a room and kitchen of a couple with medium income can be seen.

Permanent exhibitions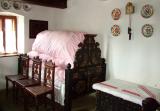 The Slovakian people of the county differed from the Hungarians in their clothing rather than their furniture. The difference was due to the varied embroidery since they ornamented almost all cloths adjusted to the line of sewing.

further exhibitions