Hortobágy Shepherd Museum
- Hortobágy
Address:

4071, Hortobágy Petőfi tér 1.

Phone number:

(52) 369-040

Opening hours:

15.03-30.03.: 10-14

30.04-01.04.: 10-16

01.05-30.09.: 9-18

01.10-31.10.: 10-16

01.11-30.11.: 10-14
The Herdsman's Museum of Hortobágy is situated in the tourist centre along the old trans-Hortobágy road, where the famous bridge with its nine arches and the wayside inn Csárda were built. The exhibition illustrates the collection of those objects that were used in the everyday life of the people - the traditions, tools and objects of a herdsman's life.

Permanent exhibitions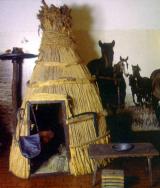 The exhibition tells about the bleaks of Hortobágy used for animal husbandry for centuries. Farmers from Debrecen oversaw the order of grazing in the bleaks. However, the real characters of life in the bleaks were tenants of the Hortobágy. The most important shepherds in rank were those who watched horses, the next ones in importance watched cow, then sheep watchers and the last shepherds in rank were the pigman. The exhibition shows these shepherds in work via tools and articles.

further exhibitions