István Széchenyi Memorial Museum
- Nagycenk
Address:

9485, Nagycenk Kiscenki u. 3.

Phone number:

(99) 360-023

Opening hours:

01.10-31.03.: Tue-Sun 10-17

01.04-30.09.: Tue-Sun 10-18
Permanent exhibitions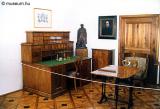 The first room represents the history of the Széchenyi family. Beside the whole-figure picture of the money gainer György Széchenyi the genealogy table of the generation, a map showing his lands and properties, and an earl state of arms carved from wood can be seen.

In the first hall of our exhibition representing the history of Hungarian coin minting we follow up the changes of Hungarian money from the coins of King St. Stefan to the point when the country was divided into 3 parts. The showcases represent the events of various small periods through coin minting. Thus we can see the inflation following Stefan, the golden forint introduced to contrabalance the inflation, the coin minting of king Matthias, and the different coins of the royal Hungary and Transylvania.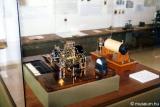 The exhibition shows the works of engineers who became famous by their work pursued in the fields of electric supply or traffic: Déry - Bláthy - Zipernowszky's transformator, Ányos Jedlik's works, the telephone center of Tivadar Puskás and Kálmán Kandó's electric train contributed much to the technical revolution of the 20th century.