*King St. Stephen Museum
- Székesfehérvár
Address:

8000, Székesfehérvár Országzászló tér 3.

Phone number:

(22) 398-083, (22) 315-583

Opening hours:

Temporarily closed.
Permanent exhibitions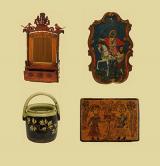 The new permanent exhibition at the King St. Stephen Museum is to review the folk culture in Fejér County by dealing with lifestyle and traditional objects in the county. The path of objects is followed from their makers through users until they ended up in one of the folk art collections.
The creators of these folk art objects are craftsmen, shepherds, although some of them were made in guilds. The makers usually sold their goods at markets or fairs. We demonstrate a fair with Lebkuchen (honey cake) makers, pottery traders and goose bottom sellers.
We lead the visitors from the outside world to the inner world of human beings by forwarding the role of objects. We pass through folk traditions, religiousness, holidays and cultic sphere manifested on various objects. There is a group dressed in holiday cloths on their way to the Indulgence in Bodajk, there are items respecting various saints The visitors an learn about the traditions of "tikverőzés" (when boys smear coal over the girls' face) on shrove Tuesday in Moha, whipping in Pázmánd at Easter, or carrying around a green branch at Pentecost in Gyúró.
At the end of the exhibition, the visitors can enter a peasant room traditionally decorated for Christmas, where the master and his wife are watching the Christmas nativity play. We invite our visitors to join our interactive endeavour and use the computers, watch films on ethnography, and listen to recordings.