Region House
- Zengővárkony
Address:

7720, Zengővárkony Kossuth u. 6.

Phone number:

(72) 466-581, (72) 466-187

Opening hours:

15.03-11.15.: 10-18

16.11-14.03.: 10-15
The region house is situated in the middle of the village (6th Kossuth Street) in an area called village waist by the inhabitants. The area is bordered by the Calvinist church built in 1802 and the Calvinist school built in 1856. A stream called Alsógát - springing from the Valentine (Balázs) well - is flowing in front of the house. This stream used to drive 8 mills, and today it helps supply water for Várkony and Pécsvárad.

The long, rear facade of the building is situated on the Northern line of site, and the front is looking toward the street. There is a rear building attached to the house, behind of which there is the pigsty. Behind all these there is the stable that divides the site into a yard and a garden. The latrine is leaning to the stable wall in the yard side. The yard is separated from the road by a fence made of stones. Between the fence and the front of the house there is a small garden.


Tere are 4 rooms in the house. Walls are made of mud bricks, but stones were also placed into the mud. The 4 places are called the front house, front kitchen, bedroom and rear kitchen. There is an outside balcony at the Southern wall, and there is a cellar under the house lenghtwise. The entrance to the cellar is from the front of the house.

In the attached building there are food stores, a kitchen, a henhouse and a shed. The floor of the rear building is covered by wood.

Proportions and the design of the building speaks of thoroughly skilles masons. Its ornamental plastering and porch columns are the masterworks of popular arts. Late baroque and other styles stemming from classicism are mixed according to the popular patterns and peasant demands.


Permanent exhibitions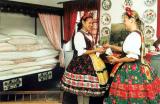 In the front house we can see fower-painted pieces of furniture arranged as an interiour. These objects were made by German woodworkers, adjusted to the taste of the buyers. A loom stands in the main corner of the room, in the place of the corner bench and the table.

further exhibitions