Bakonybél Country House
- Bakonybél
Address:

8427, Bakonybél Fő u. 15.

Phone number:

(30) 468-8938

Opening hours:

01.04-30.09.: Mon-Sat 9-18, Sun 9-16

01.10-31.10.: Mon-Sun 9-16
In the middle of the main street of Bakonybel we can find the historic building of the Ethnographic Museum which is a double house connected by an arched gate. At the end of the yard there is a special barn with a protruding entrance. This barn is a rare heritage of our national architecture.

The building, wich is valled Haspray-house after its last ouner, can already be found on the map of the settlement made in 1857. The last significant rebuilding was made at the beginning of the 20. century. Since 1970 the building has operated as an Country Museum.

The present permanant exhibition was renewed in 2005 by Veszprém Country Museums Managment. From May to Oktober there are folk art and activities of craftsmen in the small house. These temporarary exhibitions are organized by the cultural association of the village.
Permanent exhibitions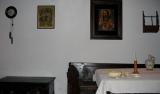 In the smoky kitchen and the interior room there is an exhibition from relics which werw presented to the museum. We can find here churn, hackle, swingle, kneading hutch, handwoven, embroidered splash-guards and saurs, nimles and chisels for woodworks. The anvantage of jolly organisation is that every object camn be touched.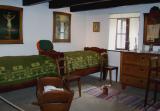 The utensils and fixtures of the kitchen represent different ages, we can find both old and modern ones. The parents lived in the back room, but before the marriage of the youngs all the family had lives here. Many relics which were made in Bakonybél can also be found here.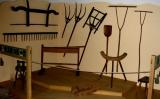 Bakonybél surrounded by forest was repopulated after the Turkish reign. Because the environment was not apt to produce crop, the trade was focused on making wood equipment. By the middle of the 19th century, there was not one family that did not complement its income of farming with domestic industry. Due to this fact, village of Bakonybél became a 'carving village'.

further exhibitions