The Diocese Museum of Székesfehérvár
- Székesfehérvár
Address:

8000, Székesfehérvár Városház tér 4.

Phone number:

(22) 510-698, (22) 510-681

Opening hours:

Tue-Sat 10-18
Since the birth of the Hungarian state (1000 A.D.) the city of Székesfehérvár, the Hungarian royal coronation and burial place had been one of the country's most important sacred centres. Saint Stephen (1000-1038) the first king of Hungary founded a privileged and independent priest association called the chapter of Székesfehérvár however the city did not have a bishop. The chapter was the guardian of the royal treasury and also the most important organisation of the state administration.

After the Ottoman Turkish occupation (1543-1688) the state and the church administration collapsed in Székesfehérvár while the population deeply changed in Hungary. In the 1770's Maria Theresia the monarch of the Austro-Hungarian Empire founded new dioceses in Hungary. The Diocese of Székesfehérvár was founded in 1777. The Empress presented richly the cathedral of the new diocese. Bishop Ottokár Prohászka (1905-1927) the "apostle of Hungary" made his diocese well known in Hungary as the location of the bishop's new social and spiritual movements.

After the economical crisis Prohászka's successor Bishop Lajos Shvoy (1927-1968) reformed the diocese economically and set up an extended cultural development. The bishop commissioned The Rev. István Kuthy canon (1889-1966) to arrange the bishopric collection including the archive and the library.

The Rev. István Kuthy with his associate The Rev. Béla Fehér (1890-1939) parish priest of Vértesboglár researched and collected old books, manuscripts and artefacts from the territory of the diocese.

Completed with the cathedral treasury this collection became the first diocesan museum in Hungary opened in 13th October 1938 within the scope of the millennial anniversary ceremonies of Saint Stephen's death. The collection survived the Word War II as it was but the building of the museum, the formal diocesan seminary, became the house of retired Hungarian priest and they stopped the operation of the museum.

In 1998 the Diocesan Museum Székesfehérvár reopened for the public in the formal building of the Franciscan Friary situated in front of the Bishop's Palace. The new permanent religious art exhibition completed with rooms of Bishop Prohászka (1999) and the history of the diocese (2002) has been arranged by Judit Kolba, Annamária Németh and Gergely Mózessy.

Judit H. Kolba, Annamária Németh, Gergely Mózessy.

Permanent exhibitions
Contemporary documents and enlarged photos help us show the life of Ottokár Prohászka (1905-1927), the man who dedicated his life to serve people by doing a variation of social work, serve church and do scientific work.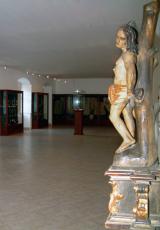 The material of the reorganized museum includes wonderful goldsmith objects from the cathedral and the Bishop's Palace besides paintings and statues with religious topic. Since the material of the episcopate and diocese are shown together, we cannot say that the showing is the result of planned collection.

further exhibitions