Holocaust Memorial Center
- Budapest
Address:

1094, Budapest Páva utca 39.

Phone number:

(1) 455-3333, (1) 455-3320

Opening hours:

Tue-Sun 10-18
The Holocaust Memorial Center in Budapest was established to show the history of holocaust, educate people about it, as well as keeping the memory of the victims. The Hungarian Republic supported the establishment of the institution opened in 2004. The new modern interactive exhibition opened in February 2006.

The visitors can see the history of holocaust on 1600 m2, but can also place their own memorial stones and candles at the walls that have the names of the martyrs on.

Student groups may also attend free classes set up according to their needs.

The institution continuously collects documents and objects, interviews survivals and witnesses.

The documentation of rescue of people is accentuated task of the institution, keeping relations with the 'True Ones' and helping the acknowledgment of families who helped in the rescues.

The building of Holocaust Memorial Center was constructed based on the design of Mányi István, Ybl Prize winner the architect.
Permanent exhibitions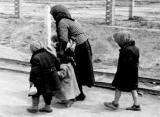 The subject of the exhibition is the Holocaust in Hungary. Its aim is to recount and present the suffering, persecution and massacre of those Hungarian nationals - mainly Jews and the Roma - who were condemned to annihilation in the name of the racial ideology.

further exhibitions