Museum Kiscell - Municipal Picture Gallery Budapest
- Budapest
Address:

1037, Budapest Kiscelli utca 108.

Phone number:

(1) 388-7817, (1) 250-0304

Opening hours:

Temporarily closed.
The fine art collection of the Municipal Picture Gallery Budapest came to existence in 1889. The aim was worded in 1887, but the collection, now Museum of the Capitol, only opened in the Art Hall in 1899.

In its first years of existence, it collected mainly fine art concerning the history of the town. In 1909, following the concept of the Mayor István Bárczy the process of collecting material changed. Instead of the topic, the aesthetic value was considered important. The preconditions of a modern gallery, the increasing the number of the collection were fulfilled, but the other requirement, an apt building was a hard task.

The situation was solved with the purchase of the Károlyi Palace (1928) where the Municipal Picture Gallery Budapest opened. Between the WWI and WWII, the collecting work of the gallery was significant. The museum played an important role in the familiarization of the Hungarian art of the 19-20th centuries.

After WWII, it was the first museum to open. In 1949 it was believed that 'the Art Gallery of the Capitol obtained the most valuable pieces of the last century an a half', which made it possible to establish a national gallery.

In 1953, the collection, with the exception of the material concerning the history of the town, was moved to the Art Gallery of the Country. Later in 1957, it was moved again to the Hungarian National Gallery. Since 1963, the museum began to collect material once more, though this time for the Kiscell Museum. Being part of the Budapest History Museum, the museum works on the field of bringing together contemporary art of and the art of the 20th century.

The name: Municipal Picture Gallery Budapest was given back to the museum in 1989.
Permanent exhibitions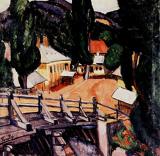 It is dedicated to the achievements of Hungarian art from the Nagybánya plain air masters and other outstanding artistic circles and trends of the late 1900s right through to the modern periods till the end of the 20th century.

further exhibitions