Village Museum
- Császártöltés
Address:

6239, Császártöltés Kossuth Lajos u. 166.

Phone number:

(78) 443-320

Opening hours:

Temporarily closed.
The first wife of Walter Boldizsár, Angeli Mária, and himself built the house in 1896. Its walls are 80 cms wide made of 'Hofstella' taken from the end of the yard. Its layout is kitchen, living room, clean room, chamber and an open porch. The roof is made of tile while the facade is ornamented. Two windows looked on the street and a wooden carved door from the yellow wall. The building was heated with a furnace which was changed for a 'sparherd' in the middle of the 20th century. The floor was reconstructed of stone and wood instead of the original dirt floor. The yard included the obligatory buildings of animal husbandry: styles, open barn and a well. A cellar, later on a was caved into the wall of the Hofstella wife press into its wall. The room served to keep groceries and potato in.

The changes concerning this house came in the year of 1947. This was the year of relocation. The owners had to leave leaving everything they owned behind. They had to fled for sins they never committed. Everything, even the animals were taken over by the family of Mátyus Vince.

The Self-government of the village Császártöltés bought th eland from their descendants. The building was reconstructed in 2006. We also constructed a memorial room then to commemorate the victims of the 'málenkij robot' and WWII.

Permanent exhibitions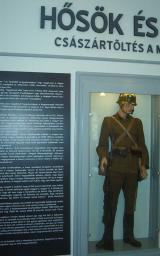 A note was put out in Császártöltés between the Christmas of 1944 and the New Year saying that women between age 18-45 had to report for clearing out the ruins. However, this time the group of 380 400 man and 10-15 women were not taken to Kalocsa, but to Kiskőrös from where they had to walk to Kiskunhalas. There they were loaded on railway coaches and traveled to the unknown. The camps in Russia took everyone in unnoticed. The people who had been used the agriculture were forced to work in mines.

further exhibitions