The Ravazdi Forestry of the Forestry of the Kisalföld Ltd.
- Ravazd
Address:

9091, Ravazd Erdészet út 1.

Phone number:

(96) 558-001, (20) 599-7838

Opening hours:

Mon-Sun 8-16
The Collection of the History of Forestry is not far from the center of the village Ravaszd. The museum was established by the manager of the time Kocsis Mihály in 1996 to salute the masters of old times who defended and preserved the forests of the region Pannonhalma - Sokoró.

The other object was to make the memoirs of the history of forestry public and help the people create a more intimate relationship with nature.

The forests now tended by the Forestry of Ravaszd had been managed by the Benedictine Order. From this period a significant amount of relics that also played important part in the realization of the collection are preserved.

Forestry in Hungary began to develop in the 18th century. The growth in the number of population and the development of economics resulted in the destruction of forests. This state required professional attention and so the development of forestry began.

One of the most significant and well-known document concerning Hungarian forestry was decreed by Mary Teresa in 1769 concerning the jobs of forest men. The document stated that the task of forest men was to supervise the keeping of order concerning forests.

The maintainer of the forests in the Ravaszd region was the Abbey of Pannonhalma until 1861. Then, a worldly man was appointed the manager of the forests, but the superviser remained an ecclesiatic man.

One of the most significant foresters of the forests of Ravaszd was Stróbel Sándor who created the conditions of forestry at the end of the 19th century.

The visitor to the exhibition may also see several personal objects and memories of the profession of foresters.

Permanent exhibitions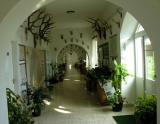 Pacing through the corridor of our museum, the visitors may see many pieces of interest. The maps made for foresters show the division of regions. We also show maps made for the public with places of interest and the road to them, as well as maps for historians.

further exhibitions