Collection of Applied Folk Art
- Kecskemét
Address:

6000, Kecskemét Serfőző utca 19.

Phone number:

(76) 327-203, (76) 506-108

Opening hours:

01.03-31.10.: Tue-Sat 10-17

01.11-28.02.: Tue-Fri 10-16

Closed: holidays, Monday, Sunday end 2013. 21.12-2014. 02.01.
The Museum of Hungarian Popular Arts was opened in Kecskemét in 1984.

The historic building of the museum is more than 200 years old; it was built as a beer house by the town leaders in order to supplement its income. Because of decrease of income the house was formed into a barracks. Between 1917 and 1982 spirits were made in the house. In 1983 leaders of the town and the county decided to give the building over to the Museum of Hungarian Popular Arts. This is how the collection seldom exhibited finally found its permanent home.

The permanent exhibition of popular arts was opened in Kecskemét in 1984. The permanent and temporary exhibitions are held in 800 m2, the visitors can get acquainted with the values of folk arts and crafts. Besides the famous artists of past generations, works of contemporary artists are also exhibited.
The permanent exhibition later got extended with the so called Zana connection.

Ever since its opening the museum's sphere of activity has been widening. Besides the permanent exhibitions we arrange temporal ones to show the contemporary works of popular art.

The permanent exhibition covers five branches of popular folk art: woodcarving, pottery, embroidery, weaving and other crafts, through the works of distinguished craftsmen; the exhibition preserves traditions, follows the different styles by exhibiting the ornamented articles for personal use of the different ethnographic regions of our country. We hold conferences in order to secure further training in various branches of popular arts.

Besides teaching about popular arts, we also give opportunity to families to practice and learn more about folk customs, music and dance.

There is a possibility to acquire simple technologies of crafts by using natural materials in the workshop of the museum. There are programs for preserving the traditions (shows of crafts, folk music programmes, tasting of dishes fried in oven) organised in the nice inner yard according to needs.

We try to make use of the nice and quiet museum yard in several ways. A few years ago we built a traditional cooker and fire place which we use for food presentations. The yard is also equipped for holding representative meetings.
Permanent exhibitions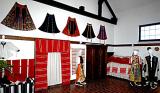 The permanent exhibition was extended by the heritage of a teacher, the so-called Zana-collection. The most valuable items of the collection are displayed on the exhibition representing the popular arts of Kalotaszeg.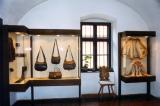 We can find a rich variety of popular hand craft items in our museum. We can see carved and painted furniture, horse hair jewelries, wrought iron objects, ornamented eggs, falk music instruments and many other outstanding items of the popular arts of past decades.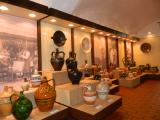 A Népi Iparművészeti Gyűjtemény állandó kiállításának egyik legkedveltebb része a fazekasságot bemutató terem volt. Ezt hosszú gyűjtő és kutatómunka után sikerült megújítani

further exhibitions