József Berey Region History Collection and Galery
- Nagyecsed
Address:

4355, Nagyecsed Vásár tér

Phone number:

(44) 545-005

Opening hours:

Wed-Mon 9-13

On prior notice: anytime
Nagyecsed is in Szabolcs-Szatmár-Bereg County, close to the Romanian border. The little town of 7500 people belonged to the Marshes of Ecsed. Ecsed was named at the time of the Original Settlement. The name Ecsed meant 'younger brother'. The village was made popular by the fortress that once stood there. Both the Báthori and Rákóczi family praised it.

Permanent exhibitions
The exhibition presents tools and equipment used by the people of Ecsed for centuries. We show the tools and equipment of weaving, farming, tools used around the house, household material. The visitors may touch old equipments that were useful part of the everydays that are completely unknown for us today.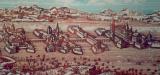 The exhibition presents objects that are from the Sárvár Hills close to Nagyecsed, as well as the excavations of 1986-88 close to the Castle of Ecsed. Over all, the visitors may also see maps that show the Marshland of Ecsed in varied times. We also show equipments, pots and dishes, as well as tools used by our ancestors.

further exhibitions