Erdős Renée-House - Exhibition Hall
- Budapest
Address:

1174, Budapest Báthory utca 31.

Phone number:

(1) 256-6062

Opening hours:

Tue-Sun 14-18

On prior notice other times are avaliable as well
Museum tickets, service costs:
| | | |
| --- | --- | --- |
| Ticket for adults | 400 HUF | |
| Ticket for students | 200 HUF | |
| Ticket for pensioners | 200 HUF | |
Our local history exhibition is based on the geographic location of the settlements and their infrastructure. About Rákoskeresztúr we found a photo taken around 1930. The photo shows the crossroads of Pesti Street and Ferihegy Street where a sign-post also showed the way to Rákosliget, Rákoscsaba, Rákoshegy and Budapest.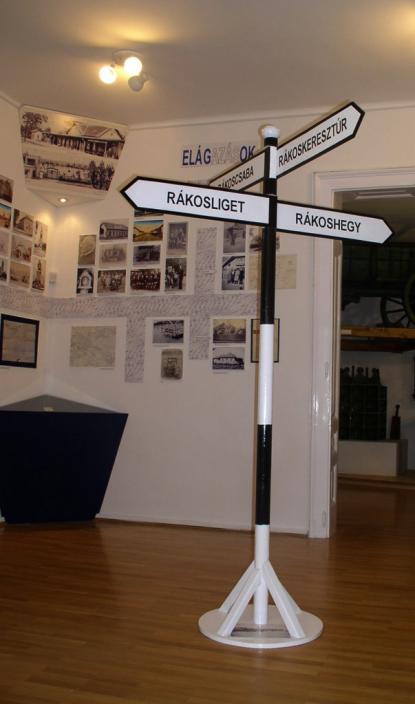 The scale model of this sign-post is situated in the middle of the ward showing the way to varied sections of the exhibition. The history of the settlements are presented vie photos, documents, maps and a few objects. Another reason for this system is that the center of the 17th district is exactly this spot. It is the business and administrative center.
It is interesting to see the old peasant houses where now ten storey buildings stand. Since all the settlements had railway stations, we used the signs of these to designate the sections of the exhibition. The periods are separated by a charter that was copied in 1267 from the original made in 1067, as well as news reels from the 1960's.
We also chose one special topic in relation to each settlement which we elaborated on. Eg. Music in Rákoshegy (among other Bartók Béla lived there, Kacsóh Pongrác wrote Háry Jánosa there); Sports live in Rákosliget, guilds and trade in Rákoskeresztúr.