József Koszta Museum
- Szentes
Address:

6600, Szentes Kossuth tér 1.

Phone number:

(30) 605-4680

Opening hours:

Temporarily closed.
Museum tickets, service costs:
Group ticket

(from over 10 people)

500 HUF

Ticket for adults

1500 HUF

Ticket for adults

1000 HUF

Ticket for students

1200 HUF

Ticket for students

600 HUF

Ticket for pensioners

1200 HUF

Ticket for pensioners

600 HUF

Ticket for families

(2 adults + 3 children)

4800 HUF

/ family

Program ticket

250 HUF

Program ticket

450 HUF

Guide

3500 HUF

Photography

500 HUF

Video

500 HUF
The visitors can learn of the fine art of Szentes at a permanent exhibition that holds artworks by painters, graphic artists and sculptors born in Szentes.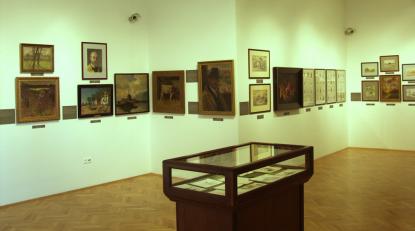 Art boomed in Szentes due to spreading of civic culture in the last decades of the 19th century. In 1910, the National Salon held its first display in Szentes in the Assembly Hall of the County Hall. Art began to develop following the appearance of the first significant paintings at the end of the 19th century.
Kiss Bálint and Hegedűs László became nationally acclaimed artists. Jakó Gézát, Zolnay Gézát, Koszta Józsefet and Kováts Károly from Szentes represented modern Hungarian painting. Koncz Antal was an acclaimed sculptor with his portraits. The audience of the town awarded him several times. Drahos István drew on the sagas of Hungarians in his drawings, engravings, wood cuts and later on in his ex-libris.
WWII broke the career of the sculptor Örkényi Strasszer István who died at the train station in Kiskunhalas in 1944. His statues embodied expressivity. The sculptor Csúcs Ferenc lead a complete career. His coins made him world famous.
The teachers Szentest Terney Béla and Katona Kiss Ferenc, later on Arató János also enriched the art of Szentes with their oeuvres. We have to mention the photographer Fridrich János who recorded the citizens and events of the town with artistic vein and the bent of a painter.