Museum of Local History
- Csenger
Address:

4765, Csenger Hősök tere 3.

Phone number:

(44) 715-209, (20) 560-5027

Opening hours:

Mon-Sat 9-12, 13-17

Sun 10-12, 14-17
At the end of the 19th century the furnace with a free chimney was succeeded by the so called "csikóspór" which was able to reform the task of cooking and baking as well. Off course, its appearance influenced the setting of the house: the kitchen-diners came to existence which we show at our exhibition.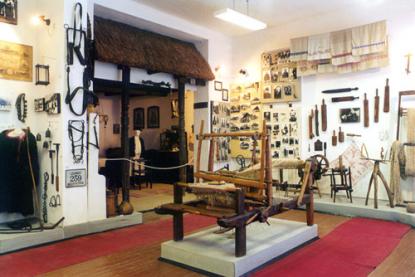 The room was centered: in the middle the table stood chairs were placed around it. One of these was the so-called 'tending chair' which, unlike the others, had an armrest. We placed a figure dressed in traditional clothing of the time next to it. This clothing: baggy trousers, short fur-lined coat, and curly brimmed felt hat was in use even in the 20's.
The made bed is at the wall. Sheer to it the basket chest favored at our region can be seen. Over it an ornamented mirror hangs. The middle peasants of Csenger of noble origins inherited a lot of very old furniture, an example of these is the cupboard form the 18th century. Opposite the bed the 'csikóspór' is displayed with tools of cooking and baking on it.
The floor is plastered earth; the ceiling is made of wooden beams which was complemented with planks overlapping each other.
The room can be characterized with the simplicity of Calvinism, which is true of all the regions of Szatmár.