Fairy Tale House
- Békéscsaba
Address:

5600, Békéscsaba Békési út 17.

Phone number:

(66) 326-370

Opening hours:

Mon-Fri 9-16

At the weekends and in the evening we are open if a program is on

The museum is closed during the holidays.
Museum tickets, service costs:
| | | |
| --- | --- | --- |
| Ticket for adults | 200 HUF | |
| Ticket for students | 100 HUF | |
The heritage of János Ványai potter was provided for the Fairy Tale House by the Mihály Munkácsy Museum. The exhibition is based on the heritage.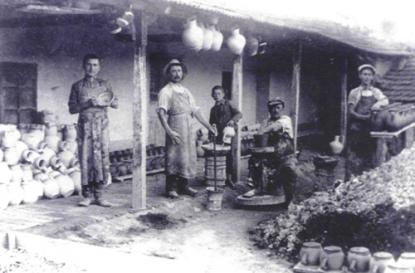 The studio recalls old traditions. The tools and equipments the faded disk and the peacetime clay grind are in a circle. The photographs on the walls may help follow the life in the pottery.
This shop is interesting especially as there was no tradition of potters in Békéscsaba. Though the tile and brick manufacturing had a considerable past, the lack of raw material did not make it possible for the trade to settle outside of Hódmezővásárhely and Mezőtúr. János Ványai returned to his homeland after he learned the trade in Hódmezővásárhely. He made dishes for the tenants of Csaba for years. We present a few of them.
This shop is unique since it is still in use nowadays. It gives an opportunity for kids on every Saturday to learn to work with clay. The material of the exhibition provides a unique background for their work. The displayed objects may serve as a basis for influence; they might be graphic aesthetics for the children. At the same time, they spread the culture of proper behavior in museums.