Nursery School Museum
- Martonvásár
Address:

2462, Martonvásár Dózsa Gy. út 13. (Emlékezés tere)

Phone number:

(22) 460-065

Opening hours:

Tue-Fri 10-16, Sat-Sun 11-17
Museum tickets, service costs:
| | | |
| --- | --- | --- |
| Ticket for adults | 440 HUF | |
| Ticket for students | 220 HUF | |
| Ticket for pensioners | 220 HUF | |
| Ticket for families | 880 HUF | / family |
The exhibition presents the history of Hungarian kindergartens from the first opened in 1828 until the 1960's via toys, objects and documents.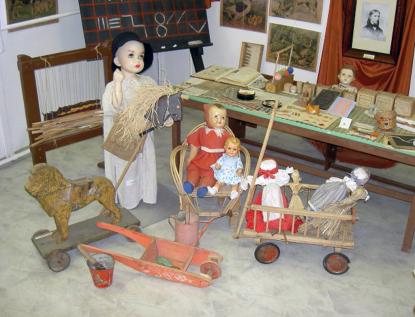 The Brunszvik family was not only known for their relation to Beethoven. Brunszvik Teréz was one of the most educated women of her times. She nursed close relations to Beethoven. At the beginning of the 19th century, European societies did not educate children under 6. The first nursery schools opened in England in 1817. However, the first one only appeared in Europe ten years later. Teréz opened the first kindergarten in Hungary and East Europe in Buda in 1828. Later, the first Austrian and German kindergartens opened following her incentive.
The first part of the exhibition shows the scale model of the first Hungarian kindergarten and documents related to the institution. We also show the development tools of the first German kindergarten teacher Fridrich Fröbel. These were used in the kindergartens in Hungary from the 1860's mixed with experiences of the English nursery schools.
Until the 1860's only men taught at kindergartens, but by the turn of the century most of the teachers were women. The work of the teachers of the kindergartens of the 20th century are shown in the second ward. They had a hard job. Often 60-100 kids were in one group. Almost all the toys were made by the kids and the teacher, mainly from vegetable matter. Toys shown are from the first part of the 20th century. These were mainly used in private kindergartens. In Hungarian private kindergartens the educational method of Maria Montessori was applied.
We also commemorate the past of kindergarten teacher training. The first kindergarten teacher training school of the world opened in Tolna in 1837. It moved to Buda in 1841 and its successor still exist. In the first years, only men were trained, but in the 1870's the gates opened for women, too.
At the end, we show kindergartens of the 1950-60's. In the first decades of socialism, politics strongly effected kindergartens. The Russian method was compulsory. Luckily, from 1960 Hungarian kindergarten education was listed among the best in the world. These were the years when day boarding kindergartens dispersed.
At last, children can try the toys of their grandparents.