Herend Porcelain Art Museum Foundation
- Herend
Address:

8440, Herend Kossuth Lajos utca 140.

Phone number:

(88) 523-197, (88) 523-179

Opening hours:

03.02-11.04.: Tue-Sat 9:30-16:00

14.04-25.10.: Mon-Sun 9:00-17:30

27.10-19.12.: Tue-Sat 9:30-16:00
Museum tickets, service costs:
| | | |
| --- | --- | --- |
| Ticket for adults | 500 HUF | |
| Ticket for students | 200 HUF | |
| Ticket for pensioners | 400 HUF | |
| Guide | 1500 HUF | |
| Guide | 3000 HUF | |
The real fine porcelain involves soil, water, air and fire in a harmonious way. The first step of porcelain making is to prepare a good quality mixture.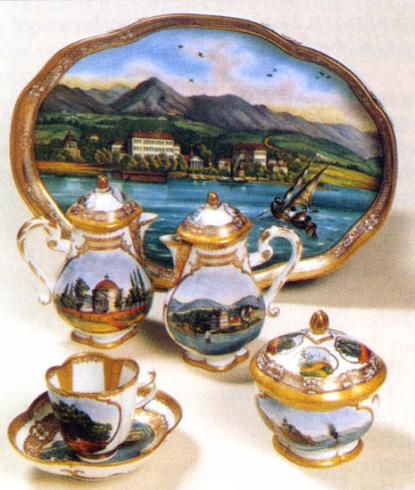 The second phase of the technology is making the row product. The first models and shapes are made by artists. The plaster molds are used for certain modeling styles. One of the instruments used is the rotating disc.
The blooms are made from so called flower mixture. Their petals are made by lubricated fingers, pressing and stretching the material. Big cleverness is needed for the art basketry as well.
The products are first heated at 940-1000 °C. After this they are coated with some kind of glaze, and then burnet in an oven of about 1350-1410 °C-on. The burnt out white porcelain is taken to the painting shop. The painter gets the paint in the form of powders, which he mixes with turpentine and thick oil left after the evaporation of the turpentine.
The painting technology has hardly ever changed. One characteristic of the Chinese painting is a light pen sketch, above which they use a thicker and relief-like paint. Another type of painting is to use various shade techniques. Sometimes the painter further mixes the colours in order to get special hues.
Finally the painted objects are trademarked and given a golden ornamentation. After all this they are again burnt, but only at about 720-900 °C.
(text: Orsolya Kőhegyi)