Central Museum of Mining
- Sopron
Address:

9400, Sopron Templom utca 2.

Phone number:

(99) 312-667, (99) 338-902

Opening hours:

Temporarily closed.
Museum tickets, service costs:
Ticket for adults

700 HUF

Ticket for students

400 HUF

Ticket for pensioners

400 HUF

Audio guide

200 HUF

Audio guide

(in German)

200 HUF
The development of mine construction is demonstrated by mockups at the exhibition.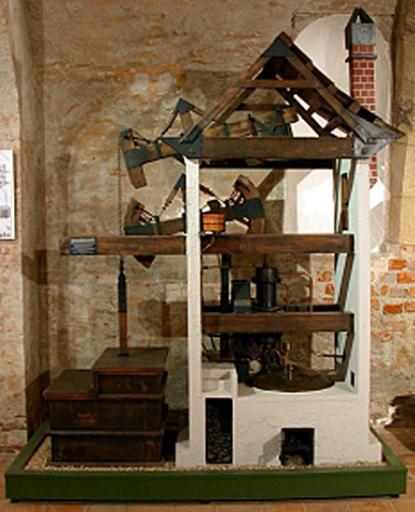 The pedalling wheel used from the 15th century resulted the concentration of human power. In other words it is an endless leather, the climbing of which the vitlások pulled up the gained materials from the mine through their own weight.
Water wheels were used for gaining water energy. The geared water wheel was discovered by János Thurzó Hungarian miner and used it at the end of the 15th century for transportation and water lifting, too. The use of mine machine house operated through a geared water wheel made it possible to transport materials from the mine by two utensils at a time.
Pumps had been used in Hungarian mining since the 16th century. Horses were also used for providing energy for mine transportation and pumoing.
From the 18th century on the lifting up and pumping of the mine water was one of the chief tasks of ore mining. New kind of machines were used for the task, which were operated by so-called "power water". Around Selmecbánya this "power water" was collected into artificial lakes, so-called power water lakes.
The Hell-like water machine pumps up the mine water through using the power water. József Károly Hell discovered the air machine in 1753, which is a pump operated by compressed air. English engineer Isaak Potter erected his pump run through fire engine in 1722 in Újbánya for the first time.
The technical novelties of the 20th century resulted in the reformation of mining methods. The vertical S-I. mine of Várpalota was set up to operate and equipped with a skip transportation appliance on 1st December 1938.
The F-type cutter driving machines gained significance in the 1950'ies. The machine family was discovered by Hungarian mining system, which was internationally recognized after the world war. The appliances used for front production began to be used easily from the 1970'ies onward.
The traditional transportation units (cabins) were substituted by permanent transport appliances (stripes, etc.).